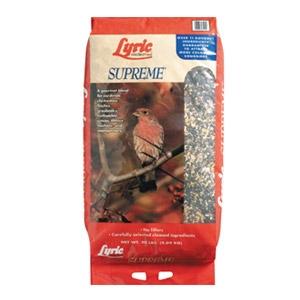 Lyric® Supreme Mix Premium Wild Bird Food
Manufacturer: Lebanon Seaboard Corporation
Lyric Supreme Mix, premium wild bird food helps you attract many birds! The excitement begins with a colorful variety of many birds dashing about as they savor the bird food you've provided. Success in attracting many birds depends greatly upon the bird feed mixture. Premium quality ingredients tend to attract an assortment of birds. Lyric Supreme offers the very best gourmet ingredients plus an assortment of preferred bird seeds and tree nut pieces.
It is our strongest recommendation to attract the most species of birds possible. Supreme Mix Ingredients: Black Oil Sunflower Seed, White Proso Millet, Cracked Corn, Shelled Peanuts, Striped Sunflower Seed, Safflower Seed, Sunflower Kernels, Pecan, Pistachios, Small Golden Millet, Nyjer Seed, and Canary Seed.

Feeding Tips:
Feeders should accommodate a smooth flow of bird feed. Look for this feature when purchasing a new bird feeder. Some products have small spaces making it difficult for larger chunks to move freely.