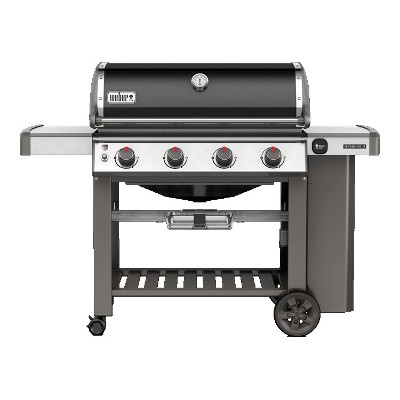 Weber® Genesis® II Premium SE-410 Black LP Gas Grill
Manufacturer: Weber Grills & Accessories
Model Number: SE-410
The social spark of your backyard. An excuse for a spontaneous get-together. And the new center of your inner-circle. Invite the crew, ignite the Genesis® II E-410 gas grill, and let the GS4 grilling system take charge while you enjoy the company. The Weber® Genesis® II Premium SE-410 Black LP gas grill is equipped with the exclusive GS4™ high Performance Grilling System and exceptional features, power and convenience.
More Information:
The GS4™ grilling system is composed of four key components:
the Infinity™ Ignition
Four High Performance Burners
Flavorizer Bars
and Grease Management System.
These components ensure that every aspect of your grilling experience is easy and reliable; from the moment the burners are lit to the general maintenace of your grill. There are an extensive range of innovative features including side tables with integrated tool hooks, 7mm stainless steel cooking grates, and the Tuck-Away™ warming rack.
Genesis® II was designed with a sleek open cart to provide additional room, accessibility to your grilling tools, easy access to the gas tank, large wheels to easily maneuver over grass and pebbles, along with an ergonomic lid with mid-point hinge.