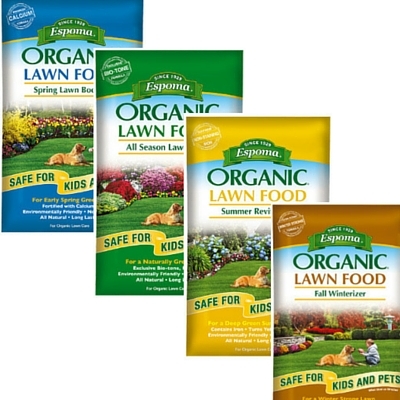 Espoma Organic Lawn Care Program
Manufacturer: Espoma Natural Gardening Solutions
The Espoma Organic program is ideal for any lawn. It contains no pesticides or synthetic ingredients. It adds organic matter to improve your soil while providing long lasting nutrition. In fact, it contains 2.5X more Slow Release Nitrogen than the leading synthetic program. That means it lasts longer, won't burn or leach away, and you won't have to mow your grass as often. Each product covers 5,000 sq. ft. and is specifically formulated to optimize greening at the time of application.
Espoma Organic Spring Lawn Care Booster:
Use early Spring (February to April)
Contains extra Calcium to help strengthen your turf's physical structure, increase nutrient uptake, and to help protect it from disease.
Espoma Organic All Season Lawn Care:
Use late Spring (April to June)
Contains Bio-Tone Microbes that help make nutrients more available to your lawn.
Espoma Organic Summer Revitalizer:
Use early Summer (June to August)
Contains Iron that greens up the lawn without staining your sidewalks or driveways.
Espoma Organic Fall Winterizer:
Use late Summer (September to November)
Contains extra Potash for winter survival and next year's spring greening.